| | |
| --- | --- |
| | |
What is 2liv3?
2liv3 is a FREE website that allows you to easily create professional looking pages without technical expertise. Fill your 2liv3 site with pictures and content from your life's experiences, share it, and stay connected with people.
You can create:

Albums allow you to organize a collection of pictures and write short descriptions.
Albums are an easy way of showing pictures without putting too much effort into the writing

Pages allow you to combine pictures and text in different ways to create informative and graphicaly pleasing content.
Pages can also link to other pages and albums using hierarchies.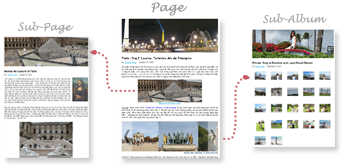 Hierarchies are a collection of pages and albums that link to one another. Hierarchies allow you to easily create complex websites with many pages and albums.
2liv3 contains many other features for you to explore and discover, for example:
Menus - create your own menus and organize your content by subject.
Social media - share your content on social media sites like facebook, google+...
Connect - make friends and talk to other 2liv3 members.